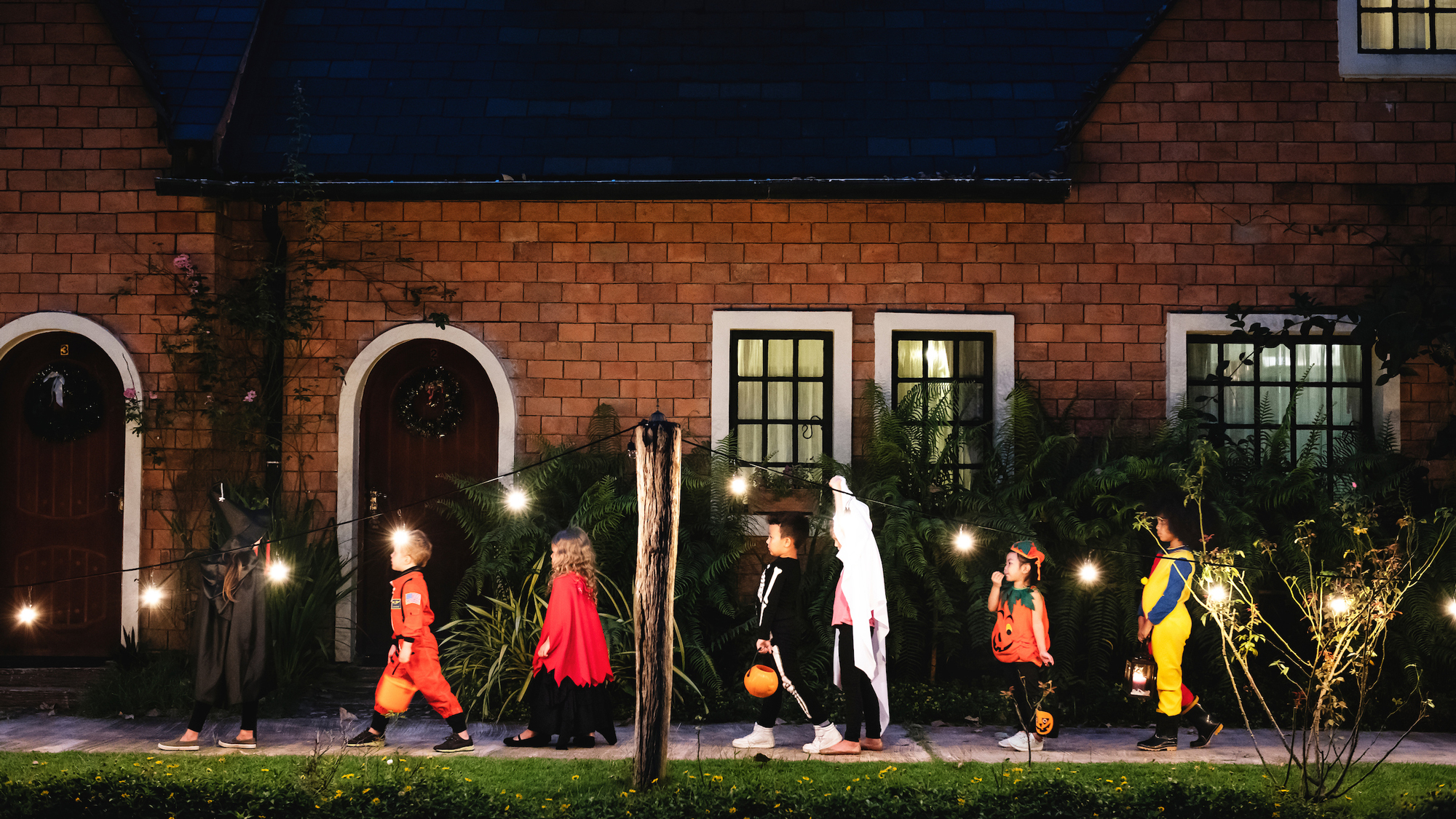 Halloween is right around the corner and is another opportunity for the U community to lead when it comes to COVID-19 protections. Cases have continued to rise since Labor Day and we all need to do our part.
To help us out this holiday, our partners in Student Leadership & Involvement have some great suggestions on how to have fun while protecting yourself and others. Check out Campus Connect virtual events organized by Recognized Student Organizations.
So don't be a "jerk-o-lantern" because it's not "witchful-thinking." Together we can "put-a-spell" on COVID-19 this Halloween.
Creep-it-real with these ideas
We've gathered a few options for you to explore.
Paint Night Fright Night

hosted by the Office of Orientation & Transition
Monday, Oct. 26, 2020 | 6-7:30 p.m.
Jackbox Game Night hosted by CEB
Thursday, Oct. 29, 2020 | 4-5:30 p.m.

Halloween Social

hosted by the Society of Women Engineers
Thursday, Oct. 29, 2020 | 6-8 p.m.
Spooky Movie Night hosted by CEB
Saturday, Oct. 31, 2020 | ALL DAY
The Night Witches - A Virtual Performance hosted by the Department of Theatre
Oct. 29-30, 2020 | 7:30 p.m.
Oct. 31, 2020 | 2 p.m.
The Residential Housing Association is offering pumpkin buckets full of goodies and snacks for campus housing residents only. There will only be 250 pumpkin buckets available so sign up here today!
Whether with room/housemates or friends and family, do your research ahead of time. Find what times of day will be less busy, and wear a mask.
There are many options online, some free and some for a small fee. All are fun, safe alternatives.
Don't drop dead if you don't have a streaming service subscription, the Marriott Library has your back. There's a guide for which films/platforms allow showing films on campus while outside of a class session. And check out these "8 Spooky Films" you can watch for free through the Marriott Library,
Not a movie person? How about cozying up with your favorite candy and spooky novel? Check out these spooky book recommendations from the Marriott Library.
Pick up a pumpkin and carve a jack-o'-lantern with friends on Zoom, or while listening to your favorite Halloween tunes.
Or host a Halloween dance party on Zoom or TikTok. Whether you're singing the "Ghostbusters" theme song, "Monster Mash" or "Superstition" gather some friends together online to sing and dance.
Costume contest. Have you been working on your Halloween costume for months? Gather some friends and schedule a Zoom costume contest (cue Halloween music and dance party).
Don't celebrate Halloween? No problem. Use this time for self-care or trying something new. Maybe you want to learn a new stay at home hobby (knitting, crocheting, tie-dye kits, mug decorating, adult coloring templates/books, friendship bracelet making, reusable bag/tote decorating, paint by numbers night, talent shows and open mic night with friends, trivia night, painting, playing a musical instrument, mastering Sudoku), or get social by hosting a Zoom date with friends or family across the country. There are plenty of safe options that don't require you to leave the house.
Do's and Don'ts this Halloween
DO:
Wear a face covering over your nose and mouth.
Avoid indoor dining/bars, especially those that are loud and require shouting to communicate.
Create a "bubble" (a small circle of people) that you "hang" with. Make sure to include your "household" in the bubble and be accountable to them and them to you about outside interactions. Limit your in-person interactions (outside of classes) to this bubble.
Avoid crowds, even if masked, and keep a 6-foot distance.
Get your flu shot.
Take quarantine or isolation requirements seriously. We know no one wants to get the call about needing to take this step, but we must all be prepared to follow instructions if this occurs. If you are required to quarantine or isolate it is imperative that you remain in your personal space and do not have interactions with others to limit the spread. In housing, violating this requirement can result in serious student conduct concerns and this obviously puts our larger community at risk too. Students should know that even in quarantine or isolation, you are not alone. Take care of your mental health and utilize resources during this time (e.g. University Counseling Center, Center for Student Wellness, Mindfulness Center, Student Leadership & Involvement, etc.). We know it's hard to have less social interaction in-person and this makes finding new ways to take care of ourselves even more important.
Hold your peers accountable in a "care-frontational" way. It is easy to get annoyed with peers who may decide to make a decision with which you disagree or are outside the bounds of public health guidelines. It's ok to confront issues that you feel may be putting our community at risk. There are a variety of resources for navigating confrontation and conflict in a healthy way, learn more through internal and external resources with the Peace & Conflict Studies.
Report it if you feel someone in your bubble has violated community standards here.
DON'T:
Contribute to the spread of COVID-19 this Halloween.
As we strive to be "One U" this approaching holiday season, remember, we're all in this together. And have a fang-tastic Halloween while practicing #safesix!