ABOUT INVOLVEMENT AMBASSADORS
---
The Involvement Ambassadors are a group of experienced student leaders who are responsible for promoting campus involvement. They facilitate one-on-one consultations and group presentations that help connect fellow students to the incredible opportunities to get involved at the U. It is their job to help students find their "home" and develop a deep connection with the U. The Involvement Ambassadors offer two primary services to the U of U community—consultations and presentations.
MEET THE TEAM
---
Our Involvement Ambassador Team is currently made up of one amazing student leader, My Bui.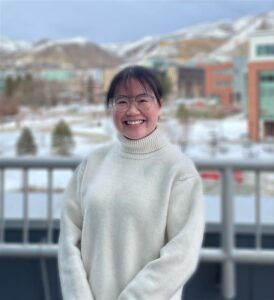 My name is My (pronounce like "me" in English). I'm from the place where "Pho" originated- Ho Chi Minh City, Vietnam. I'm a student at the David Eccles School of Business at the U with a passion for golf and painting. As an Involvement Ambassador, I would love to help students get involved at the U based on their interests and promote students to open new clubs to become a leader. Feel free to say Hi to me and contact me for further information about student organizations!
FOR STUDENTS
Consultations are the best way to figure out how to get involved. During the consultation, an ambassador will sit one-on-one with you to learn about your major, hobbies, interests, potential skill development, and goals for your time at the U. Together you'll explore Campus Connect and a variety of other involvement resources to craft your personalized involvement plan. Involvement consultations are available in-person and virtually for Spring 2022.
You can use the link below to send an email requesting a consultation with our Involvement Ambassador, Sarah.
Check back soon for additional scheduling options on this page!
FOR CAMPUS PARTNERS
For faculty, staff, and student advisors, scheduling an involvement presentation will help students identify the benefits of on-campus involvement, resources for getting involved, and steps to start their involvement journey. We are happy to come to your class, your department team meeting, a recruitment event, or other outreach event. These presentations may take around thirty minutes or so and can tailored to your students' needs. These presentations may take place in-person or virtually.

GET INVOLVED IN UPCOMING EVENTS
---